Most papers are bad and almost unintelligible. Most of my papers are bad and almost unintelligible. The ubiquity of this is evidence that writing good papers must be hard. So what am I to do about this if I suck at writing? This is not false modesty; I do suck at writing. But I am an engineer, so there must be a way to apply KISS here. KISS works. This blog post describes my current methodology to produce a paper. My version of the famous Elmore Leonard quote is:
Concentrate on the parts most readers actually look at.
Your title, figures, and their captions should work as a stand-alone unit. Write/make these first. Doing this in the form of a Powerpoint presentation is a good method. Explaining your paper to a friend using the white board and then photographing what evolves under Q&A is a good method. Then ruthlessly edit. Ask yourself: what is this figure conveying? Each idea should have exactly one figure, and you should know exactly what each of those ideas is.
Let's do an example. Suppose I were to write a paper on why it is better to feed your cats in the evening than in the morning. First, you should have a figure on what is a cat, along with a caption.
This is a cat

Don't assume your reader knows much of anything (see caveat at end of article). Now the figure above has details that are not relevant to the point, so you probably need a different one. Getting exactly the right figure is an iterative process.

If my key reason for not feeding the cat is that in the morning they will wake me earlier each day, I need some figure related to that, such as:
The problem with a 6am feeding, is the cat starts thinking about it before 6am

(credit cattree)
Finally, you will need a figure that gets across the idea that feeding the cat in the evening works.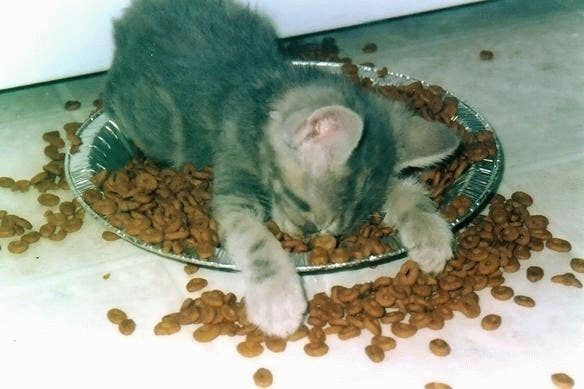 Feeding the cat before bedtime is effective

(credit buzzfeed)
So you now have an argument sequence where the reader can "get" the point of your paper. Your actual paragraphs should make your case more airtight, but 90% of the battle is getting the reader to understand what you are even talking about. "What is this?" should never be a struggle, but usually is.
For the paper writing itself, write to the figures. First, add paragraphs that speak to the point of the figure and reference it. Then, add paragraphs as needed to make the point convincing. Each paragraph should have a definite purpose, and you should be able to say explicitly what that is. The results section should convince the reader that, for example, cats do in fact behave better when fed in the evening.

Now, there is a caveat for peer-reviewed papers. Reviewers often think that if something is clear, it must not be academic. They will want you to omit the first figure. This is an example of "you can't fight city hall". But make things as clear as they will let you. If this irritates you, suck it up, and do writing any way you want to in books, blog posts, and emerging forms of expression that you have full control over.
So, in summary, make the figures the skeleton of the paper and do them first. An important point that applies to more than this topic: develop your own process that works for YOU; mine may be that process for you, and may not. Final note-- I feed my cats in the morning.